If you are seeking an adventurous, yet hassle-free and versatile way of doing your own catering for events, there are many reasons why hiring a hog roast machine is such a great option. You don't have to choose between affordability, reliability or functionality if you hire a machine from us, because our hog roasters tick all these boxes. We have a range of industry-leading hog roast catering equipment available for hire, with options to suit all budgets, all purposes and all levels of catering experience.
Flexible And Affordable Hire Packages Available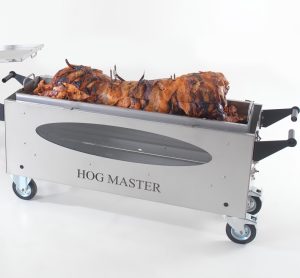 The experience of doing your own hog roast is a hugely enjoyable one and hiring a hog roast machine from us is also completely stress-free and very straightforward. We will establish which machine would be best suited to your requirements based on whether you are a commercial caterer or looking to cater for a private party, the volume and variety of hot food you would like to prepare, and where you intend to use the machine. Depending on your catering ambitions, we have hog roast machines for hire that can cook up to two whole pigs in one go, models that can prepare different meats and potato dishes at the same time, and options to incorporate rotisserie and barbecue attachments for the ultimate flexibility of use. Once we have determined the optimal machine for your requirements, we will offer you a flexible hire package, with short-term and long-term hire options available. We also offer door to door delivery and collection of the machine, as well as supplying the gas canisters, and even the meat if you need us to.
Hog Roast Machine Hire For Commercial Catering
If you are a professional caterer, our hog roast machine hire service offers you a versatile, economical and user-friendly way of providing a large amount of hot food in any setting. Ideal for festivals, outdoor weddings, farmers markets, sporting events and more, you can provide high quality hot food on the go thanks to our fully flexible hog roast machine hire options.
Hog Roast Machine Hire For Private Use
You don't necessarily have to be a pro to be able to do your own hog roast. We have plenty of clients who hire our hog roasters for private parties and functions, from small garden gatherings to community events and DIY wedding receptions. We will give you all the tuition you need to feel confident that you can cook a hog yourself, as well as some top tips for achieving super succulent meat and crispy crackling and getting the most of out the machine you hire.
Try Before You Buy
Much like test driving a car, you can only get a true sense of whether a piece of catering equipment is right for you by using it yourself. We appreciate that purchasing a hog roast machine of your own is a big step, which is why many of our clients who are thinking about buying one, hire it first to see if it is the perfect fit for them. Our knowledgeable team will ensure that we suggest just the right model for your needs and your catering goals, but we want you to feel absolutely sure yourself before taking the plunge. Giving it a trial run for a day, a week or even a month will leave you with no doubt that you are using a state of the art hog roaster which will enhance your catering business or revolutionise your al fresco entertaining.
If you are interested in hiring a hog roast machine and you want to find out more about what is involved, please call us to speak to one of our hog roast equipment hire experts.